The story of Dr. Michael Newton and Life Between Lives® (LBL) work goes back many years. This history briefly summarizes the development of this international organization that supports Michael Newton's legacy and ongoing LBL work. Learn more about Dr Michael Newton.
The Birth of the Institute
In 2002 after 30 years of dedication to his work, Michael realized that an organization was needed to support this amazing offering to the world. On June 19th of that year, in Grass Valley, California which was his home at that time, Michael and a few colleagues founded the Society for Spiritual Regression (SSR) and he became the first President. Under this new organization dedicated to the art and science of his creation, Michael continued to teach with the assistance of these colleagues.
In March 2004, SSR's first training was held in North Hollywood, California. This was followed up in September 2004 by the first overseas training, which took place in Ulfette, Holland.
Through a period of illness, Michael stepped back from both leading SSR and teaching at the Boulder, Colorado Training in April, 2005. A period of transformation then took place as Michael returned to full health. With his support, a number of the membership came forward to form an interim advisory group and a new management team. At this time Paul Aurand became General Manager; and was subsequently elected to take Michael's place as President when a new board was formed.
The Society for Spiritual Regression evolved into The Newton Institute® (TNI), in the latter half of 2005. The Advisory group insisted the new organization be named after the Founder; to which Michael finally and reluctantly agreed. Board roles were scoped, general elections held and formal "Not For Profit" status was established. The TNI Board set about planning the next steps for the organization, and at this time TNI consisted of 63 Certified Members.
The Institute Expands
The institute has grown over the years and adapting with the flows of life and evolution. Below is a snapshot of the Institute's journey thus far.
2006 – LBL Training Bedford UK. This heralded Michael's return to teaching and was to be his last overseas training before retirement. The first TNI Strategy Day was held in order to create momentum on the consolidation and expansion of TNI, our tagline "Awakening understanding of your immortal identity" arrived. Further training inNew Mexico.
2007 – LBL Training in Germany and Chicago. First Instructor Training; together with Michael's announcement at the subsequent Board Meeting of his retirement from teaching his work.
2008 – – LBL Training in Sydney Australia. TNI spent time on two key projects, a new website and planning Memories of the Afterlife, an anthology of case studies from 32 separate LBL Facilitators. Each case study was lovingly edited and assembled by Michael himself.
2009 – LBL training in Holland and Chicago. This year also saw the publishing of Memories of the Afterlife, embraced widely and quickly by the public on the momentum of Michael's earlier books. The launch of this book signaled that the work of one man had become the work of many, as those he had trained continued to provide life changing experiences to those who chose to explore. This year also saw the establishment of the Peggy Newton Award  for distinguished services to TNI; named in honor of Michael's long-term soulmate, advisor and life partner.
2010 – LBL Training in Wilmington, USA and Melbourne, Australia. It was the year the TNI Mentoring Program was founded; devised to guide new students through the Certification Process. TNI also established Trademarks for "Life Between Lives", "The Newton Institute" and the original TNI logo.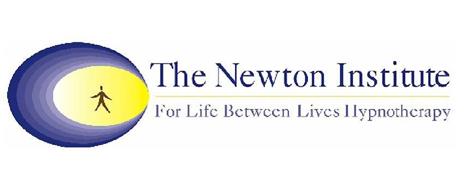 2011 – LBL Training was held in California where Michael was coaxed out of retirement one more time. The list of Certified Members grew threefold and TNI launched a Facebook discussion group (link to connect page half way down)(which now has over 8000 members). This year also saw the creation of the Scholarship Fund and further strategy day.
2012 – Commenced with the fourth Elections to establish a full Board of Directors to lead TNI into the future. Several projects were undertaken to establish a research arm and education arm, both of which have teams of volunteers supporting the ongoing work.
2013 – The Education and Marketing Committees were established and presentations were offered at various conferences where our speakers had been sought after. Our Alliance Training (link to Alliance Hypnotherapy training) program was launched, enabling our LBL members to offer prerequisite training, which heralded a new approach to instructor training.
2014 – LBL training was held in Malaysia as well as an LBL Training and Instructor training in the UK. The Ethics Panel was established and TNI held Platinum Sponsorship of the World Regression Conference in Portugal in October.
2015 – 4th Australian Training in Melbourne, and LBL training in Maryland, USA and Istanbul, Turkey.
2016 – Sadly, in 2016, our founder, teacher, mentor and friend, Michael, transitioned from this world to his Life Between Lives. A great loss for TNI and its members.
2017 – Brought about much transformation in TNI, with the first TNI World Conference, held in Maryland USA attended by LBL Facilitators from all over the world. It was a time to remember and honor Michael and the legacy he has bestowed upon all of us as members of TNI.
2018 – LBL Training in Maryland. A new Board structure was implemented as seen for the foundation for the current Board of Directors aligned under a new leadership model of shared responsibility and collaboration. TNI Published Little Book of Life Between Lives.
2019 – LBL training in Canada, Italy and California. Interaction with the public continued to grow with the expansion of our quarterly research journal Stories of the Afterlife to many more subscribers. Wisdom of Souls was published.
2020 – LBL Training was unfortunately cancelled due to world events. MNI is undertaking several key projects to further establish further visible presence in the world to share the wisdom of LBL. This includes the rename and rebrand of TNI (The Newton Institute), to MNI (Michael Newton Institute®), to better reflect the legacy Michael has bestowed upon us the development of a strategic plan, and clarification of our vision, mission, and values. Background information on the formation of this new logo and its meaning can be found below.  The Institute continues to offer LBL training so new therapists can continue on the work started by our beloved founder.
Find out more about our present day Vision, Mission and Values to continue Michaels legacy at Michael Newton Institute page.
Our Founders Legacy is Established for the Future
As a sign of respect to our founder Dr Michael Newton, TNI (The Newton Institute) rebranded to become the Michael Newton Institute (MNI) in 2020, releasing the new look logo and branding to inspire a new future, where more people can access the beauty of LBL wisdom.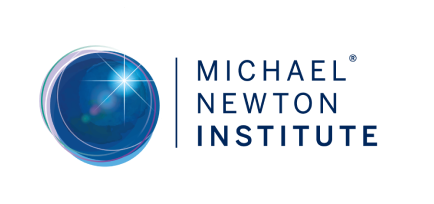 Our new logo represents:
Orb shape – Touching the other side to gain wisdom and insight, as well as representing 'being on Earth'.
Fine Coloured Rings – Repeated incarnations and dimensions that are all interconnected building upon our growth and development.
Bright Star and smaller coloured orbs – Spirits light. Your expanded consciousness, immortal identity and higher guidance shining through. A reminder of how you are supported always by the beauty and diversity of the spirit world to which you will return.
Blue Layered Textures – Represent the different depths of awareness and consciousness that we can access.
The MNI logo aims to inspire people to seek connection with the spiritual world and their own immortal identity as an expanded consciousness, so they may find understanding of their own evolution and the purpose of their incarnation.
MNI as an organization has come a long way since a small group sat in Michael's home in 2002 to plan the forming of an organization. MNI survives on the passionate volunteerism of our members and on generous donations from passionate supporters who's lives have been changed by this work.
So much more is emerging… watch this space.
Find an LBL Facilitator
Experience a Life Between Lives(r) session for your self with one of our MNI LBL(r) Facilitators.