LBL® Training
The Michael Newton Institute's (MNI) Life Between Lives (LBL) training, is the only LBL training officially endorsed by Dr. Michael Newton, the pioneer of the LBL method. MNI LBL training is the 'gold standard' in afterlife hypnotherapy training.
MNI LBL training is intensive, experiential and life changing. With a high ratio of trainers to students, and extensive mentoring support, each 6-day residential small-group training course offers students the opportunity to learn the "Newton Method" from a team of highly qualified and experienced MNI LBL facilitation trainers. Students will also discover new techniques and avenues of afterlife exploration developed and refined through MNI's Research Team and our community of LBL practitioners.
Students have the opportunity to facilitate and receive an LBL session during their training and leave forever transformed and enriched from the experience. Successful, newly-trained students are invited to become MNI Associate Members as they work towards their MNI LBL Facilitator certification through a practicum period and case study submissions with the support of a personal mentor.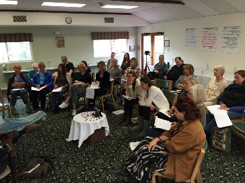 Upcoming LBL Trainings
The Michael Newton Institute began offering trainings virtually in 2021. To find out more about upcoming LBL trainings select the below button.
Prerequisites & Step-by-Step Guide to Becoming an LBL Facilitator
For more information about training prerequisites, the application process and to understand the step-by-step pathway to becoming an LBL Facilitator click the below button.
Michael Newton's Important Statement Regarding LBL Training
"I am delighted to support the work of all currently-certified members of the Michael Newton Institute for Life Between Lives hypnotherapy who follow The Newton Institute's true methodology and who are bound by our organization's Code of Ethics. There are others, however, who promote themselves as 'LBL practitioners' and 'LBL teachers,' yet are not members of TNI and have not trained with our organization, even though they claim affiliation with me and my life's work of exploring the spiritual realm. Still others have had such training and membership in the past, but are no longer current members with up-to-date knowledge of TNI, its goals and the latest developments in our methodology. Some left our organization so quickly after their initial LBL training that they did not receive the monitored exposure and feedback from our regular members. Some offer 'LBL training' but have not, themselves, followed the training and preparation required by our organization to teach LBL. I can endorse only training programs run by the TNI training team and its approved Alliance Training affiliates. People have a right to choose their own paths in life, but too many of those who have left our LBL organization still use my name for their own personal gain and claim an inaccurate and misleading association with the methodology that grew out of my research. I am concerned about public perceptions. Unless they remain in the TNI membership, how can I vouch for their skill levels or even know if they are following our Code of Ethics in their conduct? Because of these issues, they have neither my endorsement nor my support. The TNI team works hard to evolve and develop LBL methodology, but focuses on maintaining the core principles of my original research."
Interested in LBL® Training or have questions?
We'd love to hear from you
If you wish to receive updates on our upcoming trainings sign up  below
Our MNI LBL Facilitator Community
After completing LBL training and certification requirements, facilitators join our global membership community of individuals who offer LBL to their own clients, in their own independent practices.
Mentoring and learning doesn't stop at the end of LBL certification. As a member of the MNI Certified Facilitator's Member community, continuing education and access to the support of experienced mentors throughout their LBL career is available, as are opportunities to connect, share and volunteer in our Member online community and World Conferences.
We understand more than anyone that our higher guidance draws us together for a common purpose. Many feel the call to join the Michael Newton Institute, often inspired by reading our publications, or through a spiritually transformative in their own Life Between Lives session.
LBL Facilitators are people who align with our Vision, Mission and Values. Our MNI community is a family of like-minded yet diverse individuals, who wish to help humanity by furthering Dr Michael Newton's legacy. Our members can be found in 40 countries around the world.
MNI LBL Facilitators receive the following benefits of membership:
Designation title of MNI LBL Facilitator and MNI trademark and branding access
Personal profile page on the Find a Facilitator search page
Annual subscription to MNI's Stories of the Afterlife Journal
Option to volunteer in one of our many volunteers groups
Invitation to the MNI World Conference (members only)
Connection with the the LBL Facilitators around the world in a private online forum
Opportunities to be involved in LBL Research
Personal Coach and Mentor for your LBL practice
LBL TRAINING PHOTO GALLERY