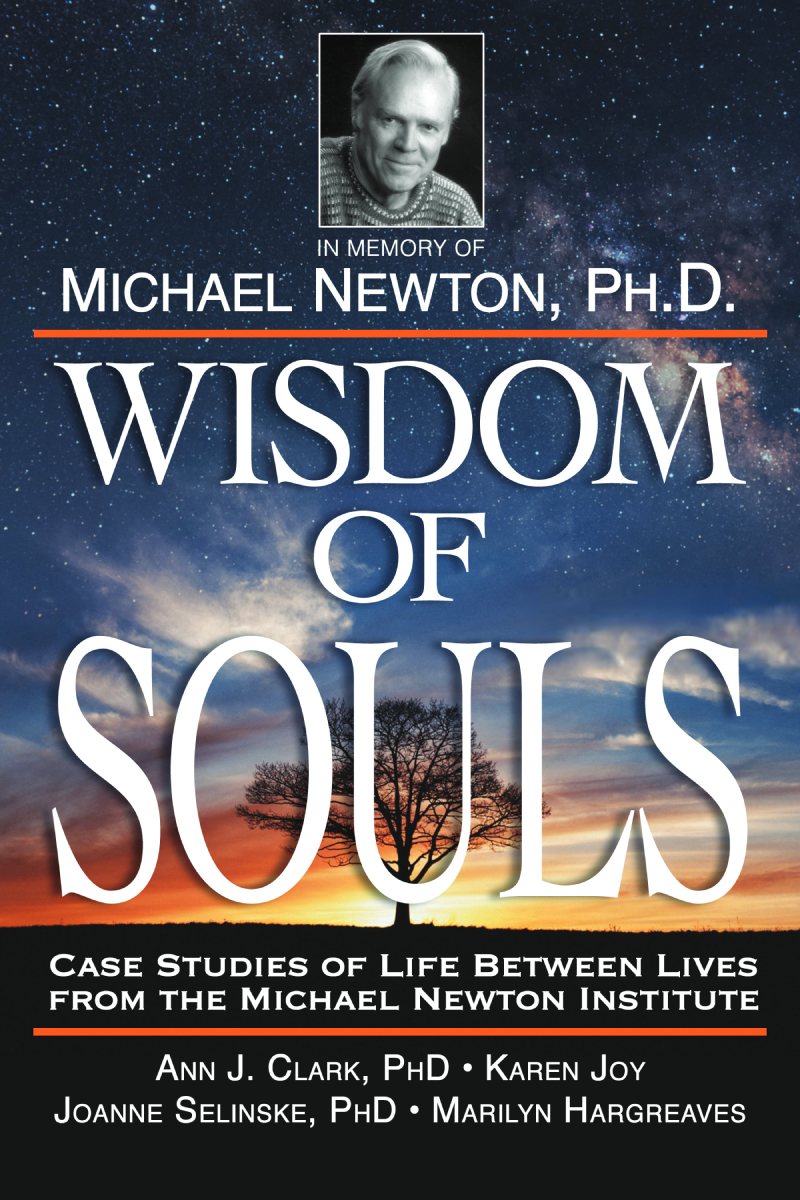 First Published: 2019
Wisdom of Souls
Authors:
Dr. Ann J Clark, Karen Joy, Dr. Joanne Selinske and Marilyn Hargreaves on behalf of the Michael Newton Institute
Acclaim: #1 best Seller ranking on Amazon (New Age & Reincarnation), Winner of Gold COVR Book Award 2020 (Reincarnation, Death and Dying)
Published Languages: English, Hindi
This book was the idea of Dr. Anne Clark who led MNI's Research team for many years. Co-written by Anne and the MNI Research team, with case contributions from MNI's global membership, it offers fresh insights on applying LBL to everyday life.
Wisdom of Souls was dedicated to Michael Newton's memory in gratitude for the sharing of his work with MNI and the world.
Discover new case studies of transcendent experiences with spirit guides, departed loved ones, elders, and the higher self. Wisdom of Souls is filled with awe-inspiring stories of healing and wisdom experienced by people from all walks of life. Learn what it's like to take an astral journey to the realm of spirit, where loving guides and higher beings of light provide instruction and warm encouragement.
Following in the footsteps of Dr. Michael Newton's bestselling books Journey of Souls and Destiny of Souls, this book provides profound spiritual insights and lessons that will help you connect to your own inner wisdom and gain a new perspective on your life challenges.
Within the pages, you will read amazing stories of people whose Life Between Lives experiences helped them. Learn for yourself how the soul sees the common life problems we all face, what lessons they may represent, and how we can address them in a manner that enhances our spiritual growth and well-being.
Life between Lives case studies from 25 Michael Newton Institute Practitioners are included in Wisdom of Souls, that address topics such as:
Facing a Health Crisis
Anxiety and Depression
Losing a Loved One
Navigating Romantic relationships
Family Conflict
Nurturing Relationships
Career and Finances
Addiction
Ageing
Wisdom of Souls is now available in Print and Audio format from
AVAILABLE FROM: Llewellyn Worldwide or Amazon
Hear what others had to say about Wisdom of Souls
Wisdom of Souls, what incredibly helpful information. Truly channeled, and crisp with information to help all of us as we read the brave souls, that travel through the maze of life. I found it extremely giving, and bared the truth. Inner work is the center of all that we are, and wisdom of souls can give you the tools to do so. The Case studies, help you to see what others go through, and how to also do this work yourself. This book is light, wisdom and a hand extended to yourself to take upon the journey
Brilliant work, carefully written to be positive and supportive on the journey of the soul. – Dr. Craig Hogan, President of the Afterlife Research and Education Foundation 
Wisdom of Souls indeed honors the legacy of the late Dr. Michael Newton and his pioneering work in between-life-regression therapy. Dr. Newton focused his painstaking and meticulous classification of thousands of case studies upon the workings of the non-physical dimensions and developing the techniques used in Life between Lives (LBL) hypnotherapy. Wisdom of Souls complements his results from a practical standpoint, how information obtained in LBL sessions can help people change their lives through understanding the reasons behind the occurrence of certain types of challenging life events.
It presents case studies of life's challenges involving health, finances, family and romantic relationships, anxiety and depression, aging and death among other events that everyone at some point in their life experiences as challenging. Although the case studies are specific to the individuals within the LBL session, the events are common life dilemmas and readers will benefit from the solutions which they may adapt to their own specific life situation. In its own right, Wisdom of Souls, provides another way of looking at the magnificence of non-physical reality through the lens of earthly trappings and earthly dilemmas. Much like how Dr. Newton's work expanded our knowledge of non-physical reality, Wisdom of Souls increases our understanding of the "earth school" and the greater reality within which it operates.  – Dr. Dennis Grega, Co-Founder of Afterlife Data and Voices across the Veil Research projects.
You may also be interested in . . .